The automotive sector in Spain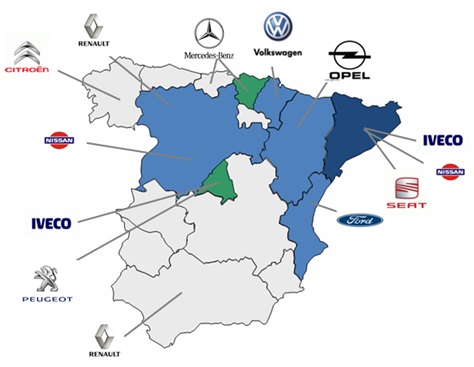 As the Ineo Corporate graph shows, the highest concentration of automotive component companies in Spain is in Catalonia. Aragón accounts for more than 5%, as do Navarra, Castilla y León and Comunidad Valenciana. 
As manufacturers of hydraulic cylinders, we are one of the more than 1,500 companies manufacturing components and equipment that make up the supply chain to the Spanish automotive industry, and as such we would like to share with you some information about the sector that we find interesting:
Spain is the 2nd largest car manufacturer in Europe and the 12th largest in the world.
Spain is Europe's leading manufacturer of commercial vehicles.
Leading automotive brands are established in Spain.
There are 17 manufacturing plants installed in Spain, belonging to 10 different manufacturing companies.
89% of the vehicles manufactured in Spain are exported to more than 130 countries.
5 million vehicles are transported every year in Spain.
The weight of this sector (including the components industry) in the Spanish economy represents more than 6% of GDP.
Most of Spain's passenger car production plants have specialised in small and mid-range vehicles, with Spain being one of the European leaders in this highly competitive segment.
In terms of its strengths, the following aspects should be highlighted: