Loading, unloading and storage… by rollers
Another of the products we manufacture in Olesa are roller floors. These are systems for handling palletised loads adapted for both air freight and Euro pallet loads.
You can handle up to 24 palletised tonnes in 2 minutes
At the time, the retractable roller system was a revolutionary advance for the movement and transfer of palletised loads, both in mobile installations (lorries, trailers, etc.) and on floors for loading docks, industries, warehouses, etc.
The roller system avoids the introduction of forklift trucks into the trucks, which, in addition to convenience and speed, eliminates damage to the load, as well as constant damage to the floor and sides of the vehicle (especially high-priced ones, such as refrigerated vehicles).
The system reduces loading and unloading times to just a few minutes.
Side unloading of semi-trailers is not required.
Can be installed on fully enclosed (refrigerated) lorries.
Maintains maximum safety, with full freedom of movement on industrial and warehouse floors.
Eliminates pallet and load damage
Allows handling on two levels, offering maximum loading volume
Laying on all types of surfaces and lengths.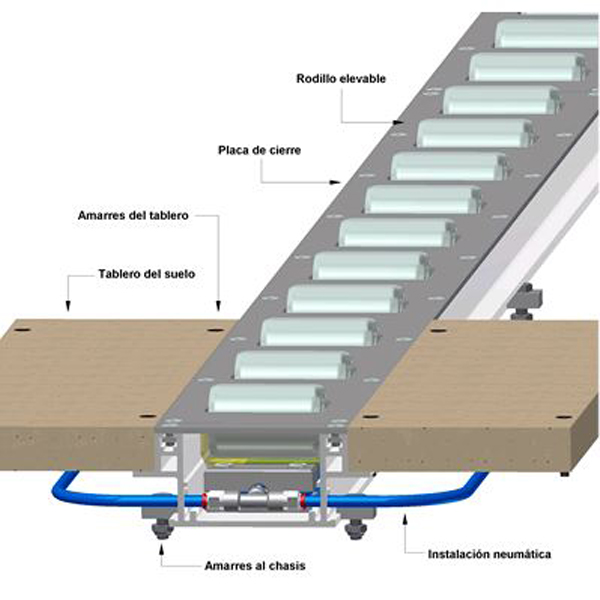 The length of the sections is 3005 mm; the roller diameter is 50 mm; the roller length is 80 mm; the pitch is 75, 100 or 150 mm; the roller lift is 15 mm; the maximum working pressure is 2 bar; and the maximum load to be lifted (2 sections) is 1,500 kg/m2.
GENERAL CHARACTERISTICS
The system is made up of beams arranged to be placed directly on the floor (the assembly is embedded in the floor), producing smooth and practicable surfaces.
Each of these modules or beams is made up of a lower aluminium profile on which a pneumatic cushion rests; on this cushion is a second aluminium profile which supports the rollers and which is closed by a galvanised steel protector. Under the effect of the air pressure, the cushion swells and displaces the profile that supports the rollers, which, when they appear between the grooves of the steel closure, lift the pallets off the ground, leaving them free to move.
The air pressure is taken from a compressor in the braking system. By means of the control panel, the lifting system can be divided into different sectors at will, adapting it to each particular transport or load movement requirement.
AUTOMATIC SYSTEM (Mechanical Traction)
The automatic loading or unloading of the pallets is based on the same system and lifting principle, except for the contact of the rollers to the pallet by a traction chain. When the cushion is inflated, the chain sticks to the lower base of the pallets, which, when moving, drags them suspended by the rollers.