Safety during tilting manoeuvres
As a manufacturer of hydraulic cylinders for tipping and tipper trucks, we would like to give a brief overview of the safety aspects.
At the moment of tilting, construction and construction vehicles are sensitive to tipping, and this type of incident can have major repercussions.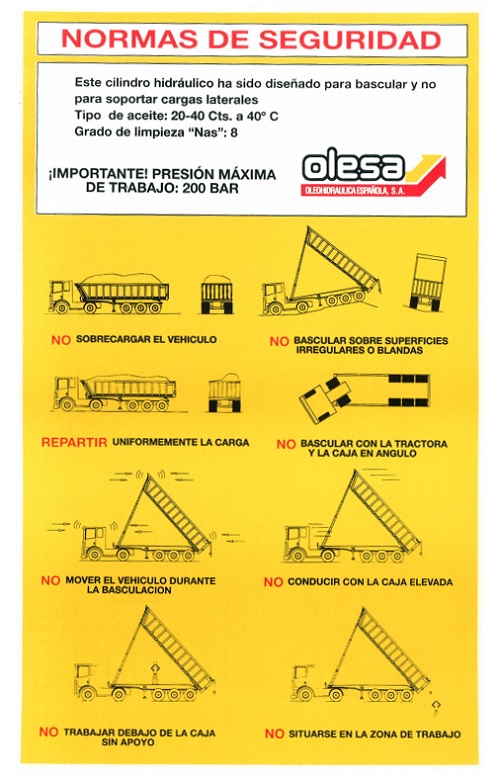 The following safety code must be known, accepted and implemented by all users of tipper vehicles in order to avoid such incidents as far as possible:
The load must be evenly distributed throughout the vehicle.

Loading and unloading manoeuvres must be carried out on level ground with sufficient grip.

The tractor head must be aligned with the semi-trailer during the tilting manoeuvre.

Respect the Security Area
In the image shown, you can see the pictogram that accompanies all the cylinders manufactured by Olesa, which details and expands on these safety standards.
Accidents caused by non-observance of these rules are nothing new, nor do they occur only in Spain, and both vehicle manufacturers and component manufacturers, in this case manufacturers of hydraulic cylinders, constantly insist on the need to respect the rules of use.
Rick Weber, in his article published in trailer body builders magazine, quotes industry professionals as stating that "A telescopic cylinder is not a structural support designed to prevent lateral preventative movement and is not intended to provide vehicle stability".
And in the same article, which we endorse, in addition to repeating the basic rules of operation, he refers to the evolution that the design of hydraulic cylinders has undergone over the years, being currently manufactured with fewer components, which means that there is potentially less chance of wear or breakage of parts, and explains some concepts that must be taken into account if accidents are to be avoided.
What information would be needed to select the right cylinder for your application?
Length of the box.
Lateral height of the box.
Outrigger (where the hinge is located).
Distance between the bottom cylinder and the hinge.
Cylinder angle in retracted position.
Hydraulic working pressure.
Y todo ello teniendo en cuenta el ángulo interno de rozamiento del producto que deseamos bascular.
In Olesa we offer this  technical information for the selection of the most appropriate hydraulic cylinder in our Technical Information section.
We recommend that you read a series of general and specific recommendations on Risk Prevention which we hope will be of interest to you and which expand on this information here.